Cradock Arms success inspires Bull's Head revival
Published on January 20, 2015
By Matt Wright
Left: The newly refurbished Bull's Head at Leicester Forest West
The Cradock Arms in Knighton, Leicester, has been on the rise since tenants Jonny and Leah Wainwright took over in 2011. Now their success is rubbing off on another Everards pub – the Bull's Head in Leicester Forest West, or the Halfway House as it's also known locally.
In 2014 Jonny and Leah discovered that the tenancy for the Bull's Head was up for grabs so they contacted Everards and signed on the dotted line in the spring. But this time they decided to team up with another couple who have been a big part of the Cradock's success – its ex-head chef David and his wife Donna Jones.
The timing couldn't have been better because David – Jonny's childhood friend – and Donna were looking at taking on a pub nearer their home so the two couples entered into a joint partnership.  The quartet will run the Bull's Head together – Jonny and Leah in the background from their base at the Cradock, and David and Donna hands-on.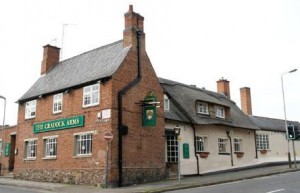 The Cradock Arms
So the Bull's Head is now on the up too, fired by the success of the Cradock Arm, and with Everards also having refurbished the Bull's Head in November 2014 to the tune of £330,000, its future looks rosy.
Leah, who hails from New South Wales, Australia, tells the story of how they reached this point: "Jonny and I took on the Cradock Arms in October 2011 because we thought it had great potential," she says. "We decided to improve the food to offer good quality, fresh dishes. I don't like the term 'gastropub' as it can alienate the local community, so we offered a broad range of food – we left dishes like burgers and sausage and mash on the menu, but did them well. We wanted the Cradock to cater for everyone."
Soon after taking on the Cradock, Jonny asked his old friend David to join them as head chef, along with David's wife Donna. David was trained by Trusthouse Forte ("like being in the army!" says David) and ran The Axe & Compass in Wolvey with Donna for 30 years, so they both brought lots of experience. Leah also has fantastic pub pedigree: she used to manage the late Keith Floyd's old pub The Maltsters Arms in Tuckenhay, Devon (where she met Jonny).
The formula worked, and with hard work and lots of warm hospitality, customers started to flock to the Knighton pub. Not long after Jonny and Leah's arrival, the Cradock won the prestigious accolade of Best Kept Cellar in the UK.
Lessons learnt at the Cradock Arms are now being put to use at The Bull's Head. "We're taking the same approach," says David. "Before we took over, the Bull's Head was very value-driven but that's not the kind of thing we want to do. In exactly the same way we did at the Cradock, we're lifting the quality of the food and drink while keeping the prices affordable for all."
This decision to focus on quality, plus the £330,000 refurbishment, means the Bull's Head is following the Cradock Arms in delivering an experience that lots of diners and drinkers will relish. And who knows? Maybe in a few years' time these two couples will run more Everards pubs. Says David: "Everards are in a league of their own. They care. They're well organised. There's nothing you can't ask them, no matter how stupid you think it is. I rate them."
Jonny agrees: "Everards are one of the smaller breweries which means they offer a far more personal relationship with the tenants. Being family owned has the advantage of not having to deal with the politics of the stock market, therefore giving them long term stability."